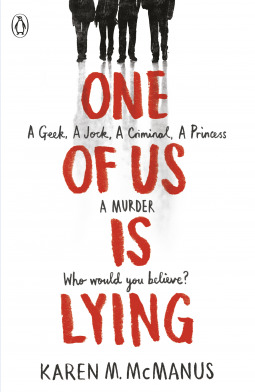 Three Words: murder, lies, revenge
Just wow!!
Breakfast Club meets Pretty Little Liars meets 13 Reasons Why, in this wonderfully gripping novel by Karen M. McManus. Five students enter detention, but four only come out alive. So who killed Simon?
Bronwyn (Geek), Cooper (Jock), Addy (Princess), and Nate (Criminal) become prime suspects after a their classmate, Simon creator of the high schools gossip app About That, dies under questionable circumstances during detention. The odds are one or all of them did it as Simon had gossip on each of them, and if word got out it would have a major impact on each of their social lives. At least that's what you'd think, right? One of Us is Lying grips you from the first page, and constantly keeps you questioning who is the killer? Is it the Bayview Four as the news has dubbed them, or is someone else pulling the strings, and framing them in the process? Not only does the storyline grip you, but the characters, I love them! Each are so diverse and aren't your stereotypical geek, jock, princess, and criminal, and they all develop fantastically throughout. Karen M.McManus has made me rethink about reading YA crime/thriller novels, and hope to see more of her books on the shelves soon.