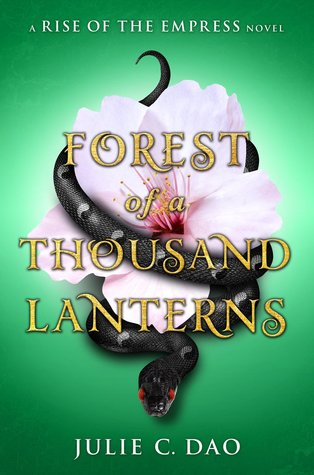 Three words: Power, Magic, Control
I received my copy of a Forest of a Thousand Lanterns in October's FairyLoot Box themed Villainous. I'd heard loads about it from my best friend who loved it, & was very intrigued.
Forest of a Thousand Lanterns is an East Asian re-imagining of The Evil Queen. Now I love fairy tale retelling especially ones from the protagonists perspective, & could not wait to get stuck in! Forest of a Thousand Lanterns follows eighteen year old Xifeng in pursuit of her destiny that has been foretold by the cards read by her abusive Aunt Guma, also known as the witch. The cards foretell that Xifeng has great potential, & if she so chooses can become Empress of Feng Lu. However to become Empress she must give in to the darkness residing within her, & forsake her Aunt & childhood love, Wei.
Wei has loved Xifeng since he was ten, & has wished to take her away from her aunt. He's portrayed as being strong, & kind along with having talent in sword lore. He believes Guma is poisoning the good he sees in Xifeng, the light that shines within her. Little does he know it is not Guma who whispers to her, but something more sinister & ancient, something that has been waiting, lurking in the shadows for Xifeng.
Xifeng has to choose a path & each promise a better life then what she has now, one of light which will lead to happiness, & the other of darkness which will take her to the throne.
A beautiful mix Asian folk tales & prophecy Forest of a Thousand Lanterns is a dark & captivating read that will ensnare you in its inky blackness, & leave you wondering if you should love or despise Xifeng. I know am still trying to decide. I love her for her development from meek abiding niece to the strong determined young woman she blooms into, yet despise her for her dark ways. I always kept wanting to know how her life would of turned out if she had chosen a different path. Could she of still had everything she wished for if she'd been given a glimpse of it? Or would she still desire to rule Feng Lu?